Meet the Money® 2018: May 7-9, 2018
Visit the registration page to sign up and attend the 2018 conference.
The registration fee for one attendee is $1,150 and includes all conference materials.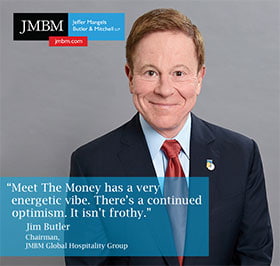 What is Meet the Money®?
Meet the Money® is a hospitality industry conference focused on hotel investment, finance, and value creation. For 28 years, Meet the Money® has provided a unique environment for forging relationships, negotiating deals and interacting with experts in hotel investment, development and operation.
Who attends Meet the Money®?
Hotel owners, developers, operators, consultants, brands, investors, lenders, and other capital providers attend our conference because it is a dynamic opportunity to meet and connect with the people they want to do business with in the coming year.
Program and Speakers
The full program is now available. This year's panel discussions and special presentations will include:
Panels full of active capital providers
Updated industry data, economic developments, trends and expectations
High-level insight from C-Suite executives
Interactive discussions on construction financing, development, select service, and transactions in today's market
We are proud to have over 70 knowledgeable executives from the hotel industry's top brands, investors, developers, and consultants participating in our program. Get to know them on our speaker information page.
Pre-conference equity strategies workshop
Don't miss our special Monday afternoon session: Meet the Equity: A Private Equity Strategies Workshop, a dynamic discussion of the most effective practices for raising equity in hotel acquisitions and developments.
This program is included in your Meet the Money® registration–just select it when you sign up for the conference if you are interested in attending.
Most hospitality projects need some form of private equity. Raising private equity is hard for any hospitality project, and getting the right equity is even harder. Come roll up your sleeves and work with the experts on the best means to attract the right equity capital to your project.
This interactive workshop will be led by Jonathan Falik of JF Capital Advisors and Guy Maisnik, Vice Chair of JMBM's Global Hospitality Group®. Come listen to private equity experts from Rockbridge Capital, Arris Capital and others who will explain how they evaluate requests for capital, what makes certain deals attractive to them, and when they do not make sense.
Learn:
5 mistakes to avoid when seeking private equity capital
What makes a project most attractive to private equity
How to get faster decisions and execution
How you'll know if you have the "right" equity for your project
How to minimize last-minute deal changes
The experts will address the best practices to raising equity for hotel acquisitions and developments. We will walk through the evaluation of a deal, key steps that cannot be missed to secure the right equity partner, best deal structuring methods, and closing the transaction.
If you have questions about our national hotel finance and investment conference, please contact conference manager Doreen Filice Gabel, at DFilice@jmbm.com. If you are interesting in becoming a sponsor of the event, please visit our Sponsorship Opportunities page.
Visit our Frequently Asked Questions page for more information.