By becoming a Meet the Money® sponsor, you'll receive immediate exposure now and throughout the conference.
There are three ways to become a Meet the Money® sponsor: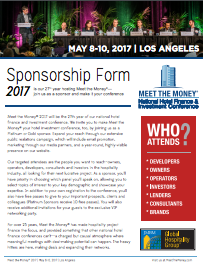 1. Click the icon to the right to download the sponsorship packet. Complete the form on the last page and return it to us.
2. Call Doreen Filice at (310) 201-3589 to discuss sponsorship options.
3. Follow the steps below:
Please tell us who you are by completing the information below, and click "Continue" to view sponsorship options.